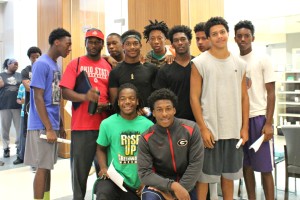 The Valley Healthcare System Medical Team, hosted a Sports Physical Bash this summer celebrating with Students as they prepare to participate in School Sports.
Athletes from across Muscogee County participated in the event. The Family Practice, Women's Health, Pediatric, and Vision Departments joined to offer Sport Physicals to students. The event brought rave reviews from Coaches as their students were given the red carpet treatment:
On behalf of William H. Spencer High School, we would like thank you and Valley Healthcare for your dedication to support the community.
– Coach Underwood, Spencer High School
The Back to School Sports Physicals day was such a success that Valley Healthcare is considering expanding the event invitation to Harris and Talbot Counties, as well as Lee and Russell counties in Alabama.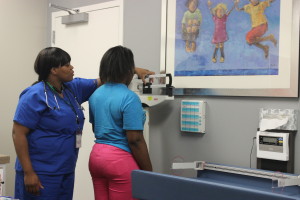 Why a Sports Physical Is Important
Experts at KIDSHEALTH.COM explain that a sports physical can help athletes find out about and deal with health problems that might interfere with their participation in a sport. For example, a doctor with a patient who has frequent asthma attacks but is a starting forward in soccer, might be able to adjust the dosage or medication in their inhaler for easier breathing during running.
The doctor may even have some good training tips and be able to give athletes some ideas for avoiding injuries; for instance, recommending specific exercises, like certain stretching or strengthening activities, that help prevent injuries. A doctor also can identify risk factors that are linked to specific sports. Advice like this will make kids better, stronger athletes.
The Sports Physicals include:
Medical History
This part of the exam includes questions about:
serious illnesses among family members
illnesses that kids had when they were younger or may have now, such as asthma, diabetes, or epilepsy
previous hospitalizations or surgeries
allergies (to insect bites, for example)
past injuries (including concussions, sprains, or bone fractures)
whether the child has ever passed out, felt dizzy, had chest pain, or had trouble breathing during exercise
any medications taken (including over-the-counter medications, herbal supplements, and prescription medications)
Physical Examination
During the physical part of the exam, the doctor will usually:
record height and weight
take a blood pressure and pulse (heart rate and rhythm) reading
test your child's vision
check the heart, lungs, abdomen, ears, nose, and throat
evaluate your child's posture, joints, strength, and flexibility